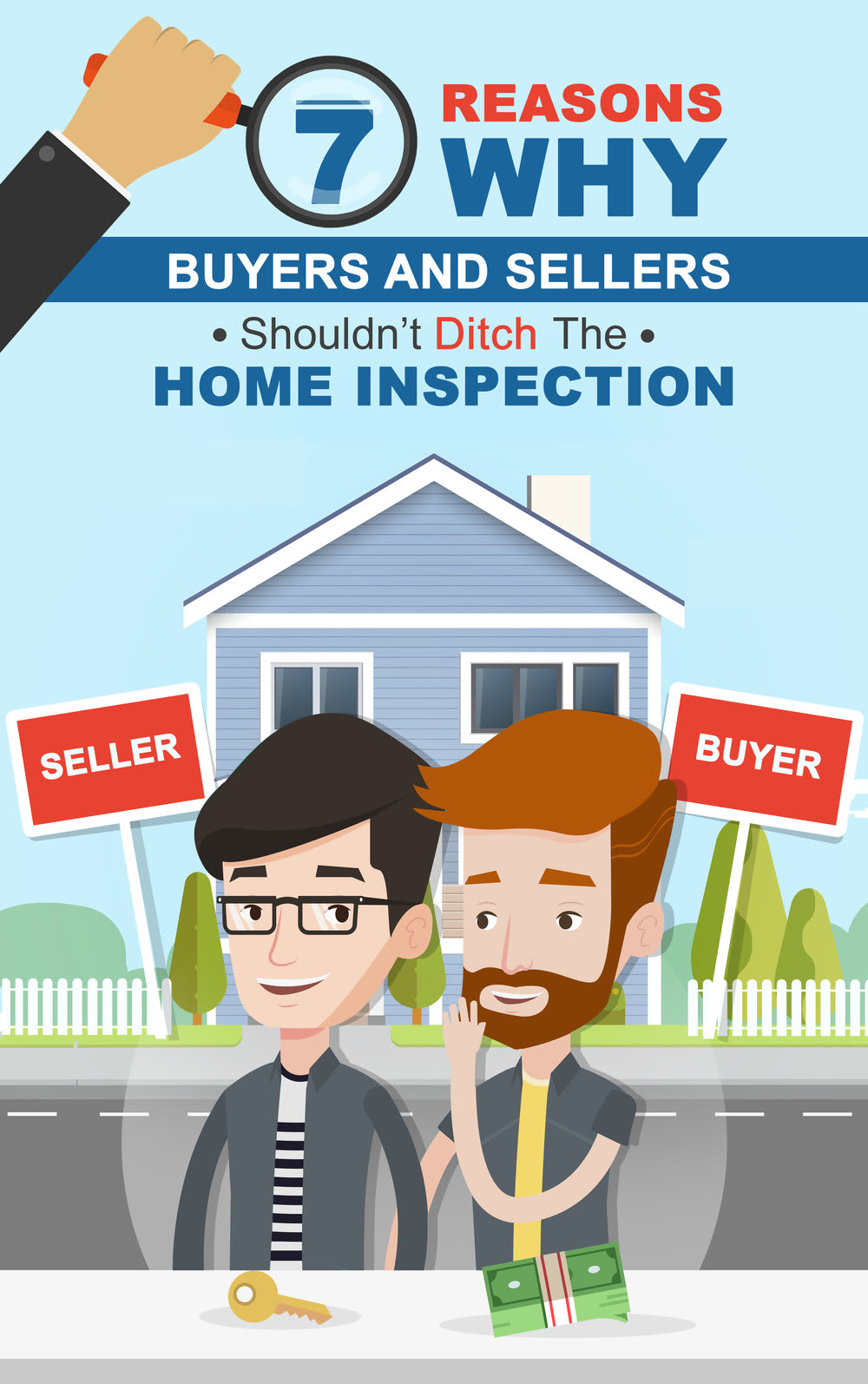 The biggest mistake that both home buyers and sellers could make is skipping or waiving the home inspection due to various reasons, like during a bidding war. And while a home inspection contingency clause is almost always included in a purchase contract, some buyers agree to waive the vital inspections to win their dream home in a competitive market.

Often, sellers skip it to save time and money, not knowing it may leave them little to no time to address any important concerns before they put their home on the market. However, it's a common ingredient for regret and unexpected costly repairs that could've been avoided.

Here are seven valuable reasons why both buyers and sellers shouldn't skip the home inspection:


Remember that there's always more to a home than what meets the eye. It may look beautiful and something that exists in a storybook, but the truth is it's almost impossible to know all about its details and issues. There are ugly homes with problems that are only "skin-deep," while there are great-looking homes that have bigger problems like termite infestation and mold. These issues can be missed even after multiple showings. Even new construction homes can have issues unknown to buyers that only a home inspection can uncover.


Even after years of living in your beloved home, a home inspection can reveal unexpected flaws that you didn't even know existed. When did that hole in the kitchen ceiling become so big? Was my dog responsible for all those scratches on the walls? Hidden problems in the foundation, roof, or wiring you didn't even notice as the homeowner could lead to larger issues.

---


A home inspection ensures that there won't be any unwanted surprises in the form of serious safety issues.

​​​​​​​Through a thorough investigation, both parties can make safety their number one priority. If serious safety issues were found, the seller can promise to make the necessary repairs to guarantee that the home is safe and habitable.
---


The results of a home inspection can be a great tool for transparency and future planning, especially in estimating future expenses. Buyers can use the detailed findings to plan for future upgrades, calculate for repairs, and carefully prepare their budget once they become homeowners.

Meanwhile, sellers can use it to plan for renovations and deal with them as soon as possible. That way, they can continue with the home sale with fewer contingencies and minimal setbacks.

---


Having a home inspection performed can give you the power to make negotiations with the seller to offer a lower price for the home.

Depending on the information gathered, you can include words in your purchase contract requesting the seller to make the repairs. Or if they are unwilling to do so, you can ask them to estimate the costs and take that amount off the final purchase price.

You can use the home inspection report as a leverage when negotiating for a better selling price. By knowing the true condition of your property, you can deal with any problems on your own terms and fix them beforehand.

You won't have to deal with any of the buyer's request to lower the price or arrange for repairs, which could cost you a huge amount of money or even the sale itself.

---


While a home inspection can cost a good sum of money, it's a significant investment that will save you from any costly repairs down the road.

Things like safety hazards, pest problems, or water leakage in the basement can end up costing you a lot more money once you already own the home. And all those issues and defects could have been revealed by a home inspector if you only allowed an inspection to push through.

---

The home inspection phase can be a huge pitfall for both parties in a real estate transaction. Sometimes a transaction doesn't move forward because the buyer and seller couldn't agree on the repairs requested from the inspection. A buyer may not feel entirely comfortable with the findings while the seller may refuse to accept more requests. Having a home inspection ahead of time can help expedite the process for both the buyer and seller.

​​​​​​​Worst case scenario: a buyer can get cold feet and will not proceed anymore with the transaction if they're not satisfied with the negotiations after the inspection.
---


The inspection eliminates all the possible "doubts" and "what ifs" of both parties. Buyers will feel certain and satisfied with their purchase, eliminating buyer's remorse and giving them of mind.

Sellers can also feel confident once the real estate transaction was completed because they can avoid the threat of any legal action due to improper disclosure. A home inspection is a great way to make both the buyer and seller feel positive that they have reached a fair deal in the transaction.